I've had the C1 in nearly 4 years now, and here are my views on how it's been working for me. The C1 isn't being sold anymore, but the not so different C2 is still being sold, as well as the soon to be released C2D (with drawbars).
Travelling with the nord C1
I bought the C1 in 2008, and today I simply cannot understand how I could live without it before. At almost every concert up to then I used a big B3 organ. I still prefer to bring the B3 when possible, but it is so convenient to use the Nord for a rehearsal, or for a gig when I have to fly to get there. In 2007 we actually hired 4 chinese guys to drive my B2 from Shanghai to Beijing (about 1200km) with car for a couple of concerts up there! Crazy.
For me the total weight of the whole setup is essential. I understand this might not be the main point for people that normally bring it in their own car, but when you're flying you sure want to avoid paying the price for excess luggage (yes that's where that band name comes from).
I have been able to bring the C1 organ together with a Roland Pk5 one octave midi pedals down to just above 40kgs which is still too much in many case, but are normally working out for me.
On the road sound experience
I'm sure the C1 could sound very close to a B3 if you had a leslie 122 connected to it, I have never gotten around to trying that. The issue is, why would I bring a leslie 122 and not the B3? Yes, it would require a smaller car, but it would require wheels and a good system to get it into the car, and I couldn't bring it on a plane or in a cab. So it's either B3 and leslie or the C1 and whatever amp/PA the venue has. Through some PA monitors the sound from the C1 can be really good, but most often I get a bass amplifier which tend to sound not that good. A keyboard amp is normally the best, but it can be hard to get the right balance of bass/highs. The Roland KC550 is one a good alternative, but it can often be too bassy even when EQ'd. The highs go more straight forward while the bass gets around wider, and this make the placement of an amp very critical, and it can lead to that if I can hear myself good, then the drummer can't hear very good. This is much easier with a leslie, where the problem normally is that the drummer complains it's too loud.
If there is good sounding monitors with enough bass, then it can work pretty well for everybody, but then there is a risk that there will be too loud organ on stage. If the organ coming out of every monitor it fills up the whole stage with thick organ sound, and that's also no good in my ears. I prefer if the sound coming from one place.
So, finding the right speaker is the main challenge with the C1. The different in sound depending on what amplifier I have available is huge. And this is of course nothing clavia or hammond suzuki can address. Except for maybe including a 12 band EQ. But then it gets kind of complicated.
In this following video I'm playing on a bass amp, I can't remeber the brand, it's one of those electric bass towers with one 18 (or 15 was it maybe) inch cabinet and one 4 x 10 inch cabinet. Pretty good amp, on the recording it sound OK, but I remember when I was sitting there some frequencies was all to loud, sharp and uncomfortable. I have the bass pedals there also, not sure how much I use them. On some amps the bass pedals can get all too loud. I think I adjusted the volume for them to 6 or 7.
Bjørn Vidar Solli on guitar and Nicholas Mcbride on drums, recorded september 2011 at "East Shore"  in Beijing, – a really cool jazz club.
The nord products are really sturdy. I have brought the C1 with me on many many flights, at least 100, and it still lives! I only have the soft bag that clavia sells for it, which of course isn't ideal, but it has worked well for 3 year until sometime last year it got a big bump in transit in New York. The metal was bent, and some of the knobs were stuck. But it still works! I played some tours and gigs with it like this (the percussion button was stuck so I couldn't turn perc on/off) until I finally opened it up and tried to bend the metal back. Now it works perfectly again. It looks a bit damaged but I don't mind that.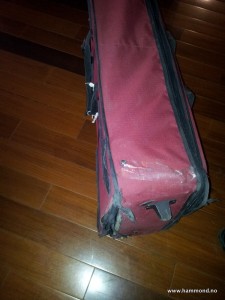 I'm on my third bag, they tend to last a year, but i'm currently looking into getting a flightcase in PVC like this which could maybe make it light enough. I did actually put some 5mm wood boards inside the case in place of the plastic PVC that comes standard with the nord case, but now I'm actually wondering if it makes any difference.
The wheels on the C1 bag are good, but will fall off after 15-30 flights, which might be sufficient for most people. I know that this bag is not actually ment to be used for flying, but having a heavy wood flightcase has not been an option for me.