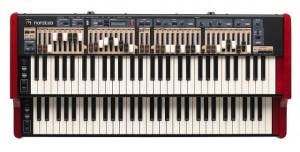 This was unexpected (for me): A nord organ with drawbars! Available in february which is very soon! I like the fact that it has 4 sets of drawbars, just as the real b3. The new Hammond SK2 dual manual organ only has one set of drawbars, that is not enought! And I also don't understand why the SK2 is more than twice the weight of the one manual version SK1. I haven't heard or played with either one of them, but anyway the SK2 would be out of the question for me with only one set of drawbars.
I actually think the previous nord type "button-drawbars" works quite well, so for me the advantage of the C2D over the C1/C2 would be to have 4 sets of them.
I'm curious about the sound improvments on the C2D compared to the C1 which I have. I do think the C1 sounds pretty good if you have the right amp, but that is part of the problem, I most often don't have the right amp.
Anyway, I will be following the C2D and take if for a try when I'll get the chance. They didn't say anything about it's weight, which for me is very important, but looking at it pictures it can't have gained main grams from the added plastic on the drawbars.
The price was announced to be 3499usd in the US.
This is the specs:
The new left-hand preset sections offer 'an unsurpassed level of hands-on control' and the upper manual and panel has been tilted for better ergonomics.
An LCD-display has been added for easier access to programs and settings.
The Nord C2D features a redesigned simulation of the characteristic mechanical key clicks that are an essential component of the classic tone-wheel experience.
The redesigned percussion model offers increased control over the percussion levels when playing near-legato.
The Nord C2D also includes a redesigned Rotary Speaker simulation of a vintage 122 unit.
The Nord C2D also includes both the Vox and Farfisa transistor organ simulations and the sampled Baroque Pipe Organ from the acclaimed Nord C2 Combo Organ.
pictures from Clavia